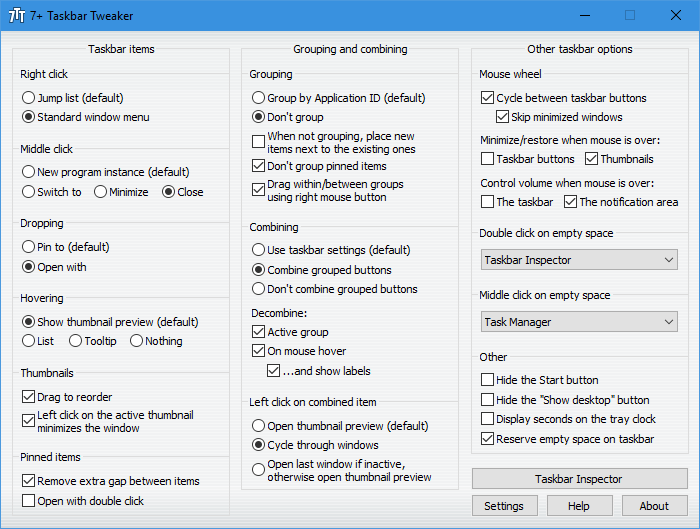 7+ Taskbar Tweaker allows you to configure various aspects of the Windows taskbar.
Most of the configuration options it provides can't be tweaked using the taskbar properties or the registry.
The tweaker is designed for Windows 7, Windows 8, and Windows 10.
Download

7tt_setup.exe (1.78 MB, changelog)
Latest version: v5.15
Note: The installer can be used to extract a portable version. Refer to the FAQ below for details.

Beta version


7tt_setup_beta.exe (1.79 MB, changelog)
Latest beta version: v5.15.0.1
More info about beta versions.

✖
Windows 11 Support Status
7+ Taskbar Tweaker doesn't support the Windows 11 taskbar, and probably never will. See this blog post for more details.
Some of the tweaks are available in Windows 11 as Windhawk mods. See here for the list of mods, and vote for missing mods that you'd like to see implemented. Read more about Windhawk here.
7+ Taskbar Tweaker works on Windows 11 with the old taskbar which can be restored with third party tools. See this blog post for more details.
Demo video
Here is a video that demonstrates some of the tweaks:
Source code
https://github.com/m417z/7-Taskbar-Tweaker
FAQ
Q: Which registry keys does 7+ Taskbar Tweaker modify? I don't need extra processes in my system.
A: The only registry keys the tweaker modifies are its own settings. There are no registry keys for the options it provides. The tweaker does that by injecting a DLL to explorer, hooking/subclassing/some other methods of the dark side.
As for extra processes, the tweaker is a native program, and is very lightweight. It shouldn't slow down your system, and uses an extremely small amount of memory. Also, you can hide the tray icon if you want.
In case you want to remove the tweaker's settings from the registry, look for them here:
HKEY_CURRENT_USER\Software\7 Taskbar Tweaker
HKEY_CURRENT_USER\Software\Microsoft\Windows\CurrentVersion\Run ("7 Taskbar Tweaker" value)
P.S. if you're a programmer, you might want to take a look at the 7+ Taskbar Tweaking Library.
Q: My antivirus complains about 7+ Taskbar Tweaker.
A: It's a false positive. I guarantee that the tweaker binaries (and any other files on this site, unless specifically noted) are 100% clean.
Also remember that the tweaker injects into explorer and modifies its memory, which is indeed suspicious.

Q: Can I Group/Combine/Label only some of the items on the taskbar?
A: Yes, use Taskbar Inspector.
Q: May I use 7+ Taskbar Tweaker in a commercial environment?
A: Yes, feel free to use it wherever you want.
Q: Where is the portable version?
A: When installing the tweaker, choose the Portable type of install, as shown on the image below.
The portable version will be extracted to the selected folder.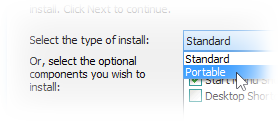 Note: If the tweaker is already installed on your computer, the option won't be visible. You can launch the setup with the /portable command line switch to force a portable installation.
Q: I want to report a bug/suggest a feature! What is the best way to do it?
A: Post it on the UserEcho page.
Q: I want to translate 7+ Taskbar Tweaker to my language.
A: The archive below contains the files needed to be translated.
Please read readme.txt before proceeding.

7tt_translate.zip (758.63 kB)
If you are brave enough to translate the help file, contact me for the required software and files.