Multiline Ultimate Assembler v2.2 is out.
What's new:
Added the ability to specify block end address
You can now specify the end address of a block, which the code shouldn't exceed.


Added the !align command
The new !align command was added, which allows you to pad the code/data with zero bytes.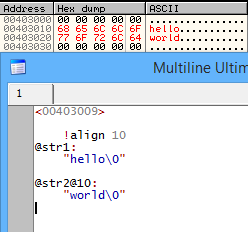 Other new features since v2.1
New hotkey, Ctrl+D: Move focus to OllyDbg.
Assembly syntax for RVA addresses to refer to the module currently loaded in the CPU disassembler.
Bug fixes.