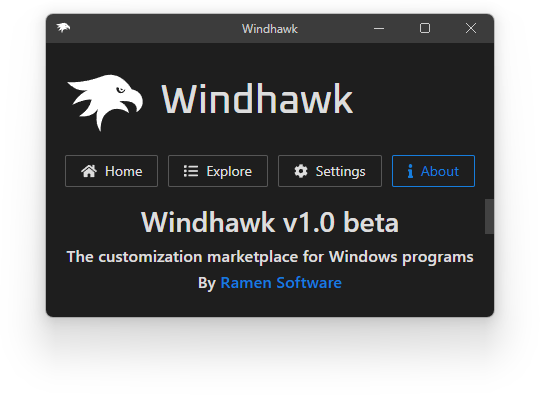 Windhawk, the tool that aims to make it easier to customize Windows programs, was announced in March this year. After about 10 months of user feedback, and after some attempts at mod development, I'm pleased to announce Windhawk v1.0, the first major Windhawk update. Most of the changes and novelties in this version are based on user feedback, and some of them fill important gaps.
Even though v0.9.2, the previous version, lacked some basic options such as a process exclusion list, it was fairly stable according to user feedback and rarely caused problems. Most reported incompatibilities can now be solved with the option to exclude processes in Windhawk, and so I'm marking this version 1.0, but since it wasn't field-testsd yet, I'm keeping the "beta" label.
Get the new Windhawk version here.
Here are some of the notable changes in the new version:

For users
Added a changelog tab for mods.
Added an "Advanced" tab for mods with debug logging functionality, easy settings exporting, and options to override the mod's target processes.
Added advanced settings with an option to hide the tray icon, an option to exclude processes from Windhawk, and several other options.
Probably two of the most common feedback items from users were: Why a specific mod doesn't work, and what to do with programs that aren't compatible with Windhawk. For the first item, now it's easy to capture debug logging data for troubleshooting, and for the second item, it's now possible to exclude incompatible processes in Windhawk.
For developers
Updated to VSCodium 1.74.2 and LLVM MinGW 15.0.0.
The compiler now uses C++20 and includes WinRT headers.
Added mod preview to the editing mode.
Frankly, I didn't get as much feedback from developers as I got from users. Also, the feedback varied depending on the different types of mods being developed. Most changes in this version should benefit all mod developers. Also, there's a specific, but rather cool addition in this version: Windhawk now comes with WinRT headers (generated by cppwinrt), making it much easier to create mods which use Windows Runtime (WinRT) APIs. For example, the Taskbar Labels for Windows 11 mod can now be greatly simplified.
Bug fixes
As expected, this version also includes several bug fixes.
Go grab the new version and let me know what you think. Your feedback is very valuable!
Merry Christmas and Happy New Year!