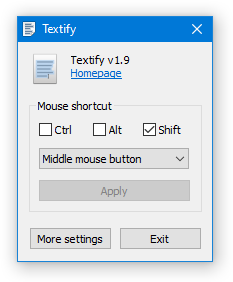 Have you ever wanted to copy some text from a dialog box which doesn't provide such functionality?
Textify was created to solve this problem: you can point your mouse over the text, click on the mouse shortcut (Shift + Middle click by default), and get a selectable view of the text.
Download

textify_setup.exe (593.16 kB, changelog)
Latest version: v1.10.4

Source code
https://github.com/m417z/Textify
Demonstration
Translations
If you'd like to translate Textify to your language, please refer to this comment.